Stories of our exciting challenges
PITA-CORU, PITA-SAPO Series: Supporters focused on sustained fit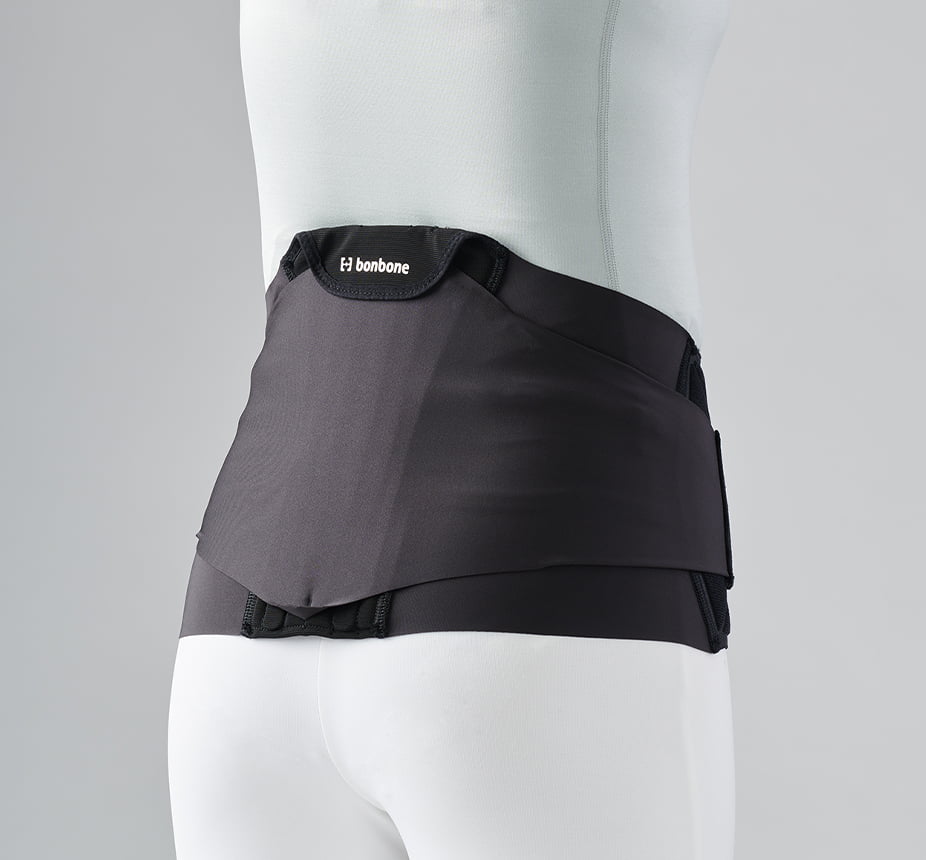 Development background
While various corset and supporters are available on the market, we considered what is the manufacturing that is unique to Daiya Industry and decided to start development from scratch by reviewing the materials and components we use in our corset and supporters.
We held interviews with material manufacturers to search for new materials while also purchasing parts from dollar shops and home centers and discussing their structure. We made repeated samples and tried various things. Among those, we noticed that function weakened when worn for a long time depending on the specific body shape and movement. This functional deterioration was due to "fit" when crouching. It was particularly noticeable with slender people. In a survey material of corsets for general consumers, "misalignment" accounted for a large percentage of functional problems. From this, we decided on the theme of "pursuing corset supporters that maintain their fit".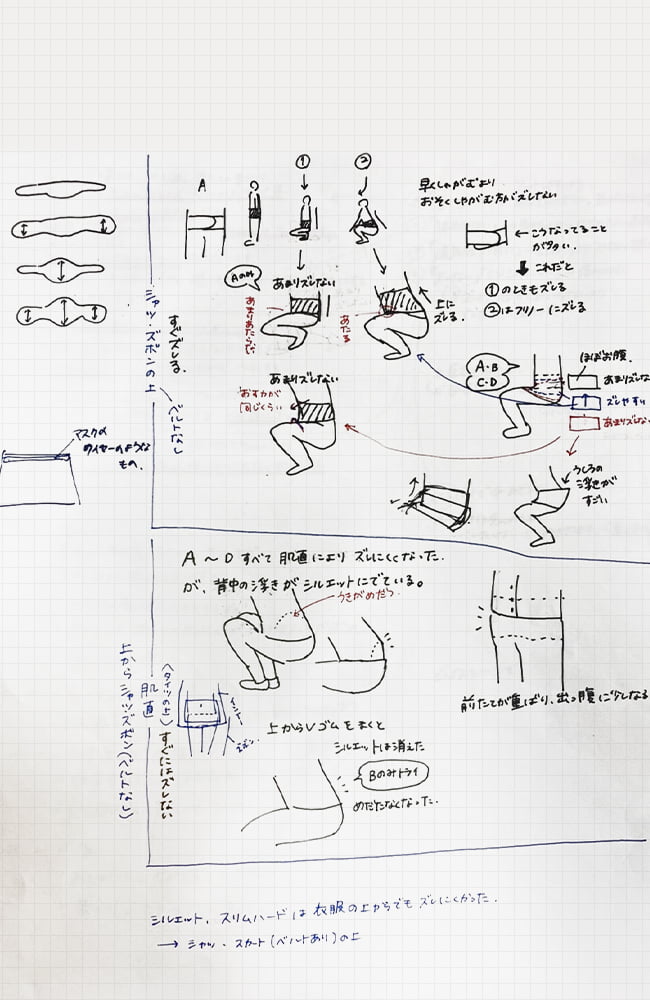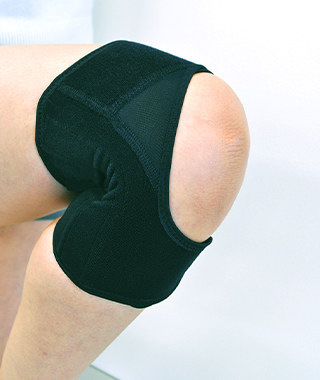 Difficulties during trial production and ideas for a solution
Non-slip materials thought to be the most effective against misalignment have difficultly returning to their original state once misalignment occurs. Also, the use of too much elastic material can impair stability around the waist. During the process of trial and error to find a balance between the non-slip and elastic materials, we noticed that there is a part where the skin stretches greatly when crouching. We carefully examined to see where the skin stretched during movement by placing markers on human body. We achieved a structure that suppresses misalignment by determining the direction of elastic materials and the location of anti-slip material based on the examination results on the direction of stretching.
To validate the misalignment when using PITA-CORU and PITA-SAPO Knee Series products, we did squats to recreate the movement made when crouching. When searching for stretchable areas, we compared similar prototypes and did this around 120 times per prototype, so all the development members suffered from muscle fatigue. While developing PITA-SAPO Knee, we were wearing short half during the most of our working hours.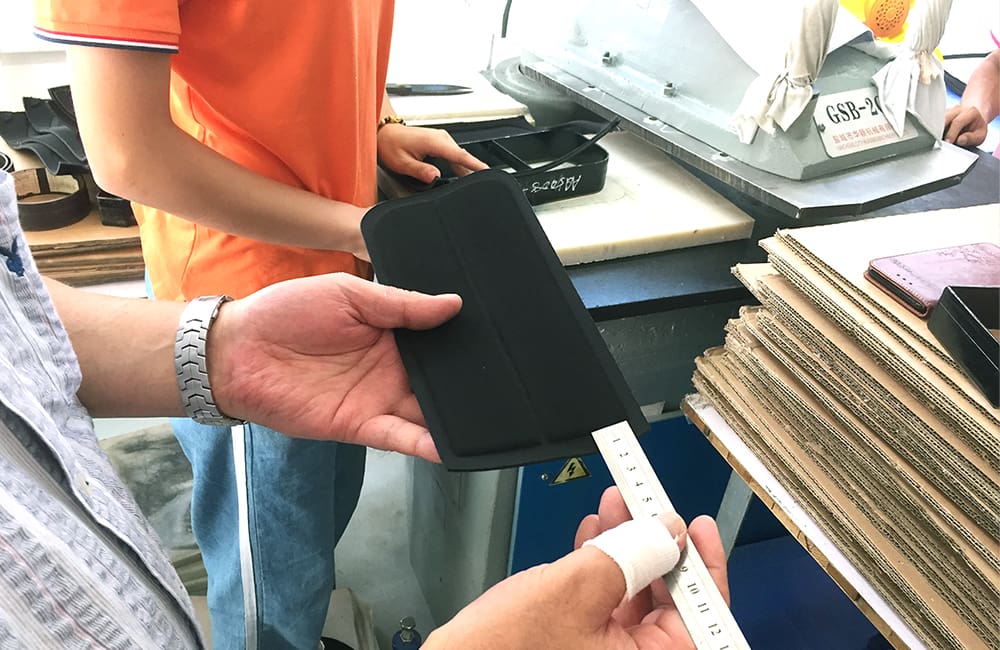 Key points
These products are made from a material that provides high elasticity, shape stability and resilience from deformation to make a corset that is thin and inconspicuous, yet comfortable to wear, even when worn inside clothes. At first, the part called the placket, which is the abdomen of the corset, was mainly composed of a hard mesh material in order to improve support. However, while this material provides strong support, it deforms once a crease is formed and it becomes difficult to return to the original state. To solve this folding problem while also maintaining corset support, we decided to take on the challenge of molding a placket.
Creating a material that doesn't take on a new form even it bent meant creating a material that returns to its original state after bending. We placed urethane material between the pile material and the skin surface material, and used a three-layer structure to create a highly resilient material structure. We also placed a groove in the mold to allow for creases, making it more difficult to form wrinkles during bending and resulting in a product that can be used for a long period of time.
Positive feedback
We appreciate the positive feedback we receive from customers who visit the DAIYA FACTORY on the 1st floor of our company building to replace their corsets: "It's thin and soft, and it looks like I can wear it for a long time," "It's easy to wear even the time I wear thin clothing in summer," "It fits well and feels comfortable to wear!"
Our top products for meeting detailed needs!
Double Gear Belt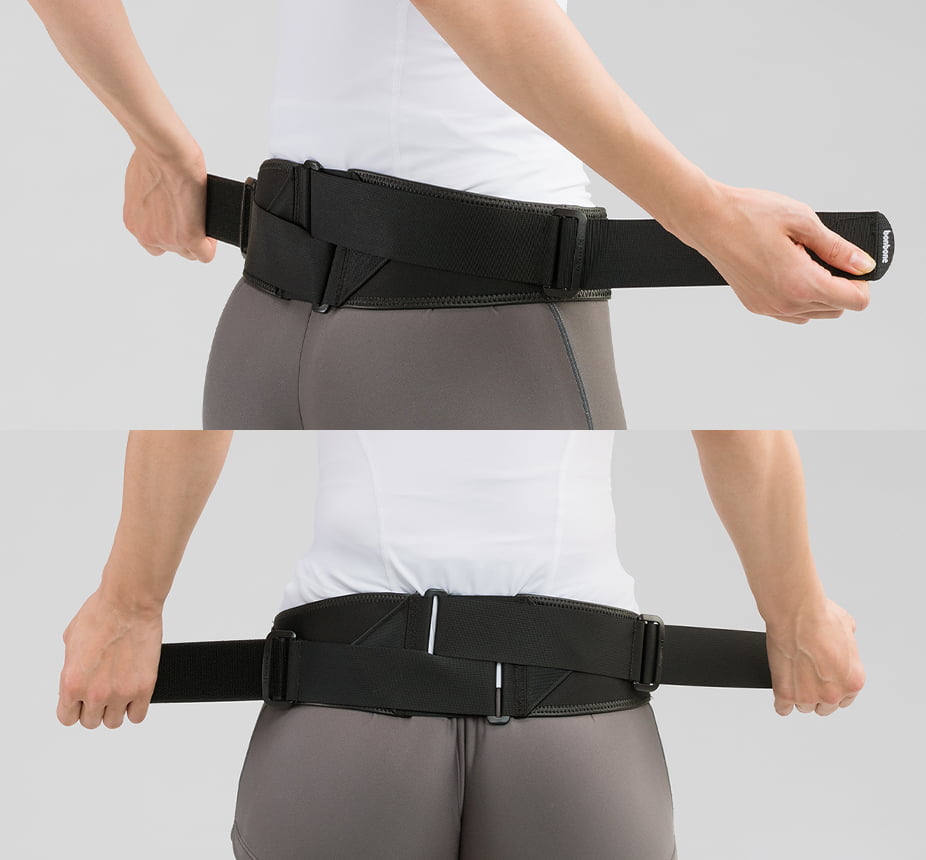 Background behind renewal
The Double Gear Belt pelvic belt applies the principle of pulleys and has been well-received over the many years since its release for its original structure that allows people with limited strength to experience a firm yet comfortable fit. At the same time, we also receive detailed requests for different specifications. Specifically, customers noted that because the auxiliary belts you pull when putting on the belt are on the back side, it can be difficult to know if you are holding the left or the right belt. We also heard from manufacturing members that the numerous parts made it difficult to sew. We were confident it was a good product in terms of functionality, so we decided to make improvements that would increase satisfaction further by responding to these needs in terms of wearing and manufacturing.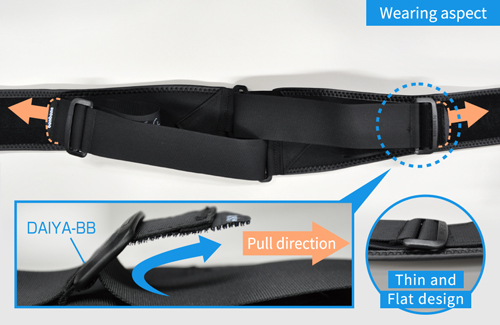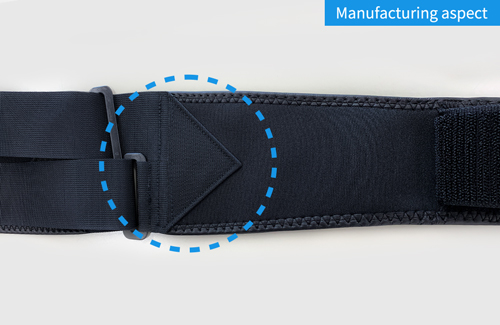 Difficulties during trial production and ideas for a solution
<Wearing Aspects>
We thought that a better design would be for the auxiliary belt to point towards the direction of pulling so the user would not mistake left and right even if not in the field of view. We tried various designs to change the direction of the belt, including bending and sewing the belt to make a guide, and by stacking two support frame pieces, but we could not create the desired result. Eventually, we decided to develop a new support frame piece. After repeating this process several times, when the prototype featuring the current parts was finished, we were all happy and excited for creating what we felt the best design. We gave these original molded parts the codename BB to reflect the essense of the bonbone brand.
Pulling direction
Belt restraints to maintain position

<Manufacturing Aspects>
We struggled to resolve the problem of belt sewing becoming shallow towards the end, resulting in the belt coming undone when putting it on. But we had the idea that if we removed the ends from the belt, it would not come off. What provided a hint was origami folding paper. We decided to bend the belt into a triangle and sew the triangular part so that the structure that consisted of two belts can be created with a single belt. This reduced the number of parts and processes, making it easier to manufacture and creating a design that was symbolic in appearance.
Key points
Before aproving the product, I was instructed by the president at the time (current chairman) to "make sure that all people can experience the function of the Double Gear Belt." With the product prior to improvements, there was a problem with difficulty in putting on the product. This meant that customers could not experience the functionality of the product unless an experienced person explained it to them.
To address this, we focused on specifications related to the procedure for wearing the product, including designing the length of the auxiliary belt so that it is in a position where it can be easily pulled while body is twisted. We also addressed how to deal with problems that interfere with wearing. We also figured out the illustration in the instruction manual to eliminate confusion in the procedure. During the stage immediately prior to the decision to commercialize, we validating that all customers visiting Daiya Industry who have no knowledge of the product can wear it without problems by providing them only the manual and the prototype product. Through this process, we were able to confirm that everyone could wear it correctly.
Positive feedback
We received a comment from a practitioner who has been using Double Gear Belt for many years that , "I think the developers should be commended because it is a wonderful improvement." The proprietary frame piece was also well-received. I was proud when I was informed that we had received through manufacturers and trading companies many inquiries wanting to use the product. Of course, I hope that many people around the world will be able to use our product.
Challenges in new domains
Wheel Chair Glove ZERO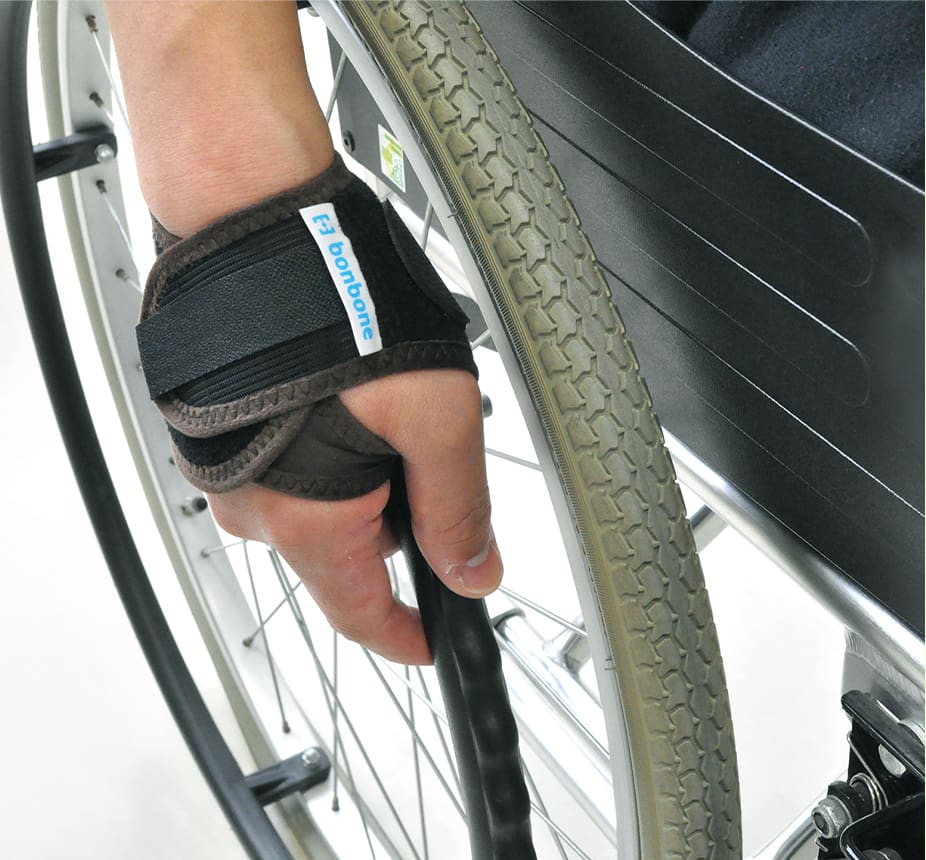 Development background
We had an opportunity to visit a community of people with cervical spinal cord and spinal cord injuries. They struggled with problems such as the high maintenance (rubber replacement) costs for wheelchair gloves and difficulty in wearing them. They expressed the need for an item that can be used to solve this problem and asked us its manufacturing utilizing the know-how of Daiya Inductry. Until then, we did not offer wheelchair gloves, but we were happy to be consulted, so we started development towards addressing the issue.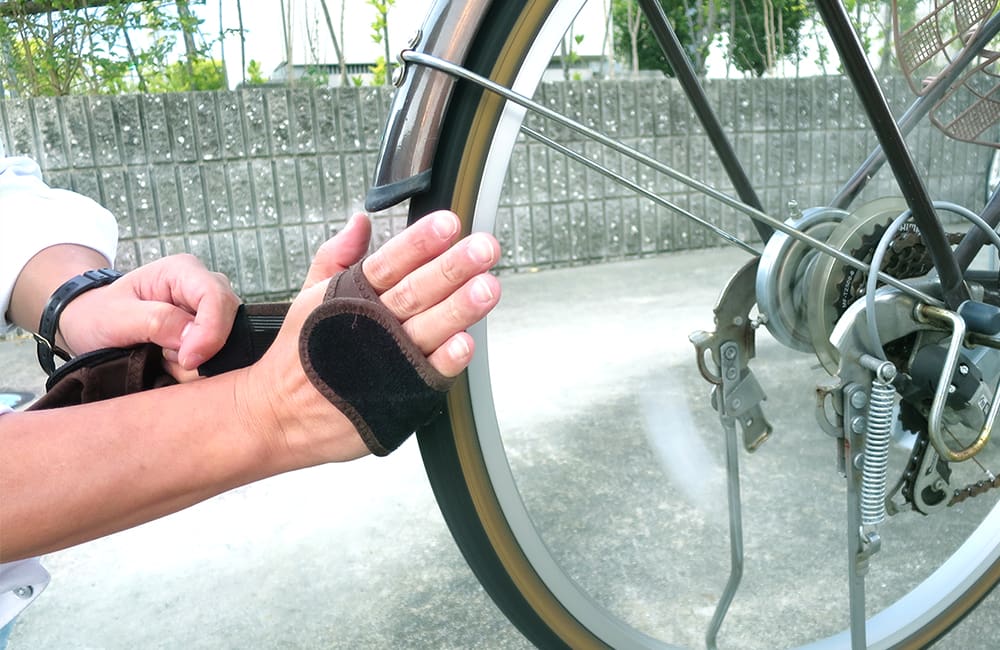 Difficulties during trial production and
ideas for a solution
Since people in a similar situation were not in our neighborhood, it was difficult to know whether our prototype would be beneficial. We also had a hard time because there were few people to interview. We visited rehabilitation facilities and new communities to interview them and take videos of their lives to study how they move and operate their wheelchairs.
At that time, we did not have the type of equipment such as durability testers that we have now, so we used bicycle tires to perform durability tests for non-slip materials. Specifically, one person would ride a bicycle on its stand while another person pressed the prototype against the rotating tire. The friction between the non-slip rubber and the bicycle tires caused lots of rubber powder to fly around, so every time we did an endurance test, we would be all black head to toe.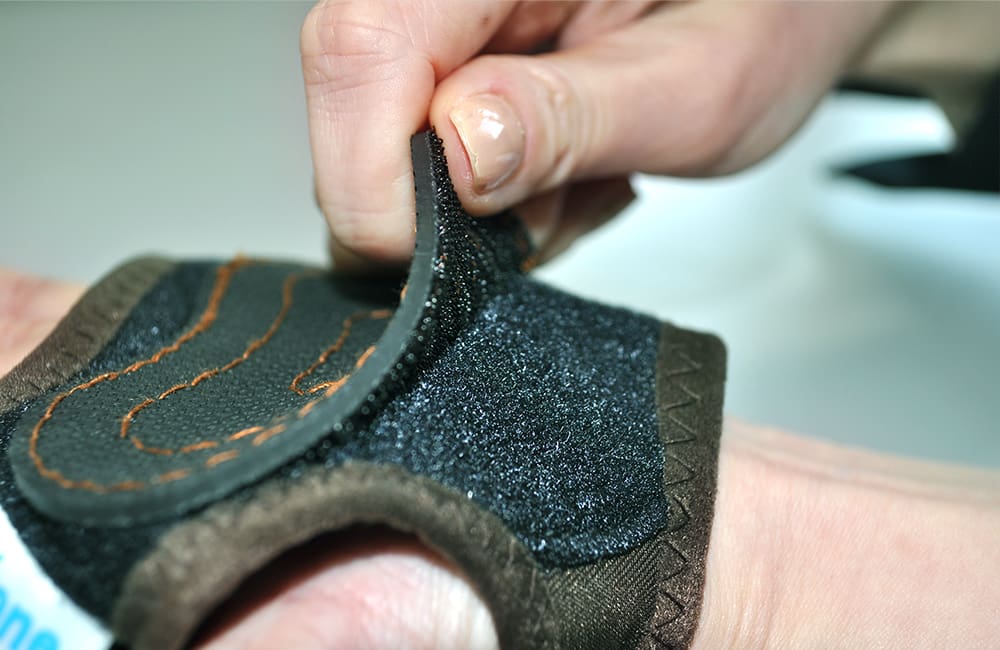 Key points
Conventional wheelchair gloves have holes for the index finger and thumb, and they are typically put on by passing your fingers through the wholes. Through interacting with various people, we found that many of the subjects had difficulty moving their fingers, so we designed a glove that is easy to wear and use by eliminating the finger holes. Also, conventional wheelchair gloves have non-slip parts sewn onto them, so it would be necessary to leave the gloves to have them re-sewn at the time of replacement. This process was time consuming and costly. By using a hook-and-loop fastener instead of sewing it, we eliminated the need to leave gloves and lowered replacement costs.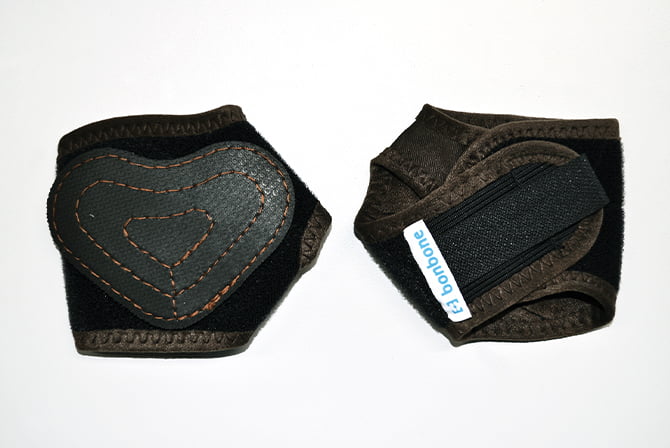 Short type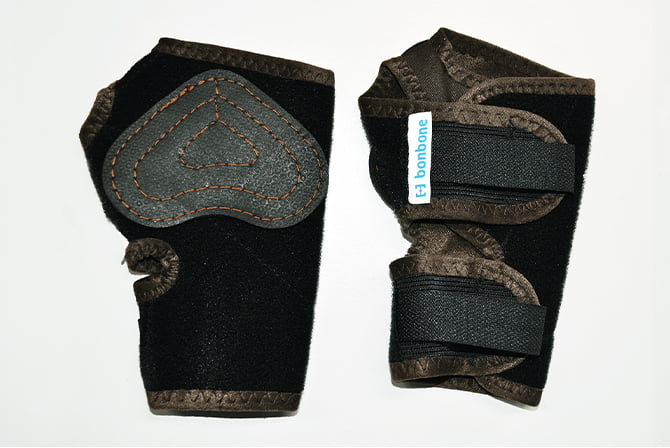 Long type
Positive feedback
We received feedback from a customer who had to change from a self-propelled wheelchair to an electric wheelchair due to weakening in the muscles of their upper limbs that they were able to continue to use the self-propelled wheelchair thanks to Wheel Chair Glove ZERO. (For wheelchair users, going from a self-propelled wheelchair to one with an electric motor is physically and mentally damaging.) We were very happy to feel that the products we developed were benefiting our customers.
Continuously evolving assist suits
History of the DARWING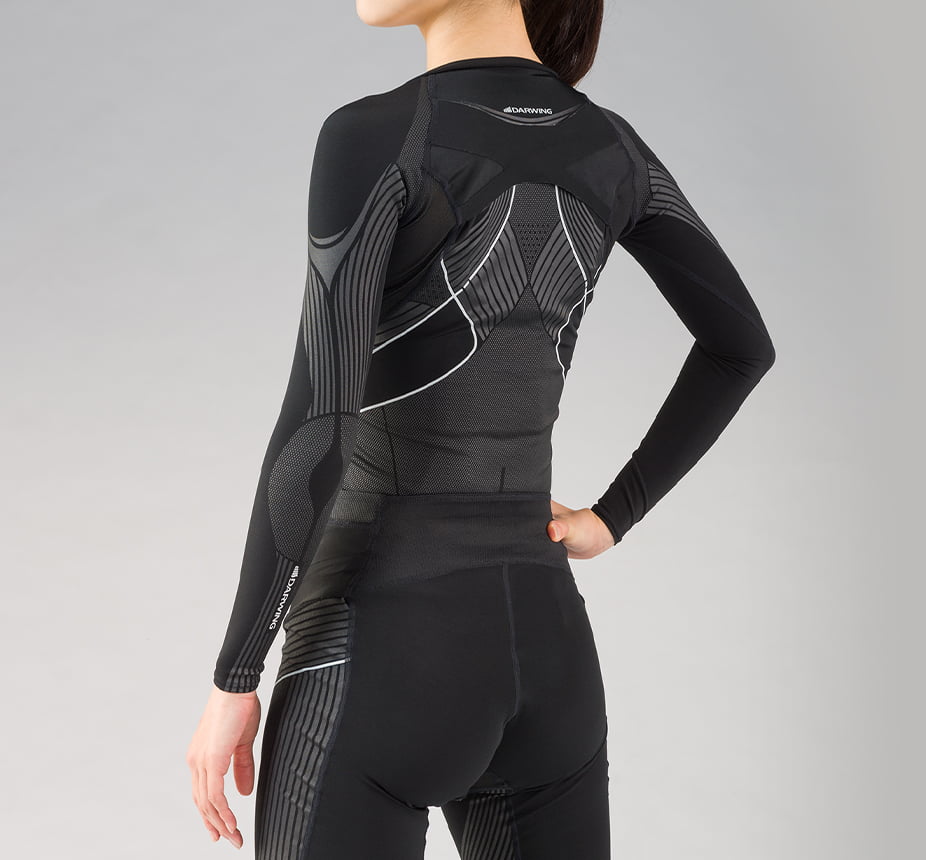 Development background
Instead of providing a conventional medical supporter, which people use after discovering discomfort in their body, we wanted to apply the support technology we have cultivated over half a century to help people avoid damage to their daily life or work, to provide people with the ability to enjoy life, and to help people have independent and active lives. Through joint research with Okayama University, we had created a power assist glove for grip force support that is equipped with artificial muscles that apply pneumatic pressure. We imaged combining that technology with fitting technology and our human body support know-how to create a full-body assist suit. As the first product for enabling basic whole-body support function, we started on the development of the assist suit DARWING, which can be worn regularly to support the entire skeletomuscular system.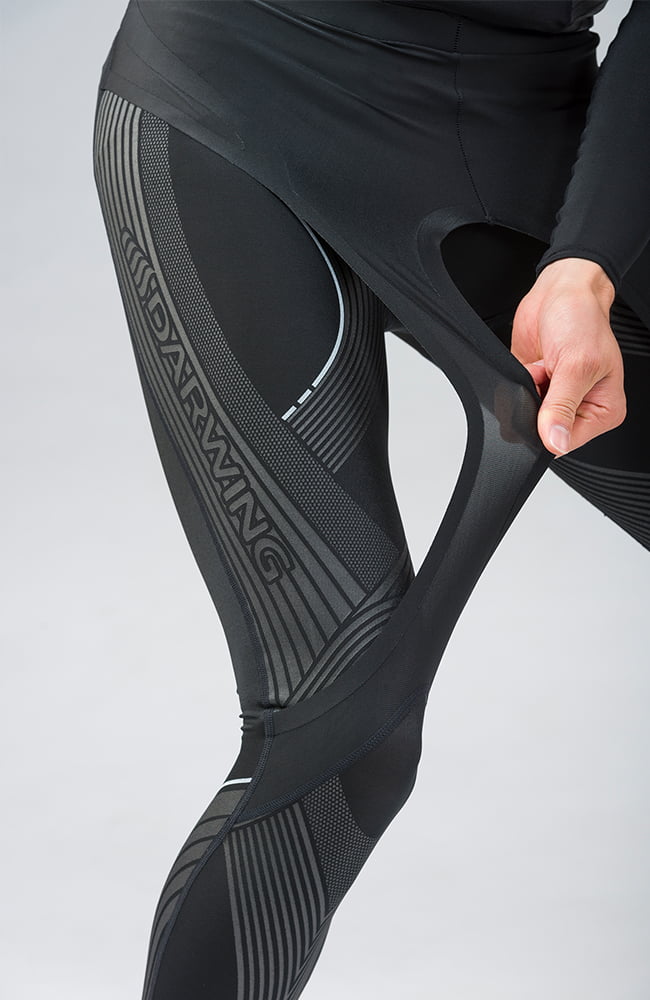 Difficulties during trial production and
ideas for a solution
The body works through the movements of various muscles in both deep and superficial layers that stabilize joints, and enabling walking, twisting, and bending. Designing a single piece of clothing comprised of multiple pieces of fabric only capable of a certain level of expansion and contraction on the same surface to that was able to reproduce the complex movements of these muscles was difficult and took time to design. We began by making parts that imitated the muscles of the entire body and putting them together into one piece of clothing. I wore the first completed sample with a sense of anticipation, but it was upright and immovable. This was because the back and torso, the front and back, were pulling at each other. From there, we focused on the muscles related to the desired movements and, over the course of several attempts, changed the placement of the support while re-examining starting and stopping. However, we had no success. Through trial and error, we focused on recreating the role of the muscles, continuously fine-tuning according to each movement. Eventually, we identified two types of support to create a design consisting of two layers, a double-layer structure with a deep base and surface support.

The first layer, the deep base, features a support line using taping and corset functions recreated by using a resin print to enhance the sense of body stability. The second layer, the surface support, uses rubber-like tension to help with movements such as pulling and swinging.
These support parts directly assists various movements by rearranging the shape, tension, and placement location. These factors work to create an assist suit that can be made to order not only in terms of size, but also for body movements through flexible functionality that can be adjusted to meet desired limits and assists levels.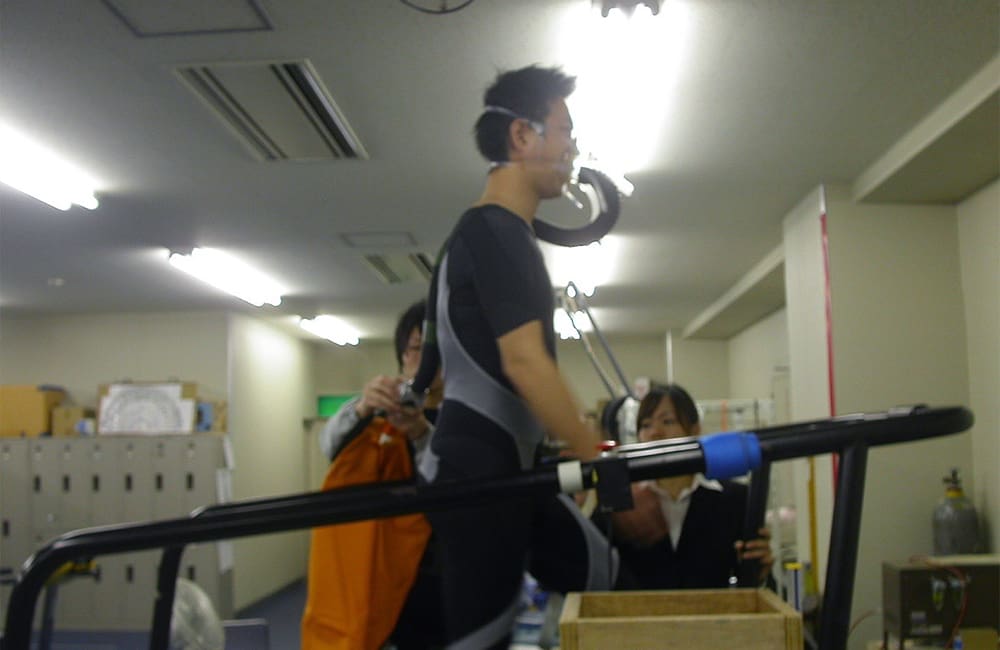 Key points
We particularly focused on comfort to enable wearing on a daily basis. I spent about half a year wearing it every day, including wearing it while swimming in the pool and opening the bottom part to see if I could go to the toilet without taking it off. We revised the cut pattern every time we encountered parts that needed work. At that time, the materials used for corset and supporters did not provide the ideal comfort, so we ordered a large number of highly elastic innerwear materials that we had never used before to check the feel before selecting materials. In consideration of skin contact, for the support line we reduced the number of seams by the resin print process and we adopted the use of a special sewing machine that finishes with flat seams for less contact.
Positive feedback
We received feedback from a customer who had difficulty walking: "I was able to go for a long walk wearing the DARWING standard model, and even was able to go on travel that I had previously given up on."
We are happy that our custom-made DARWING is gaining popularity among athletes with disabilities. A prosthesis is attached to amputated end but creates the feeling of a hanging heavy object. We have been told that wearing DARWING provides a sense of unity with the body. I feel that this is also possible because we can make a custom-made products with asymmetrical designs.
The future of DARWING
As the name suggests, the assist suit DARWING has evolved flexibly to fit various usage situations and its target subjects. Our development team presents new ideas to meet the needs of various movements. Today, DARWING has become an assist suit brand that can be used not only in daily life but also in sports, as well as for labor reduction and rehabilitation assistance. DARWING will continue to evolve so that many more people can enjoy active lives.
We are continuing our challenge!
Walking with your own legs again
AIVA
Artificial Intelligence + Vitality Assistance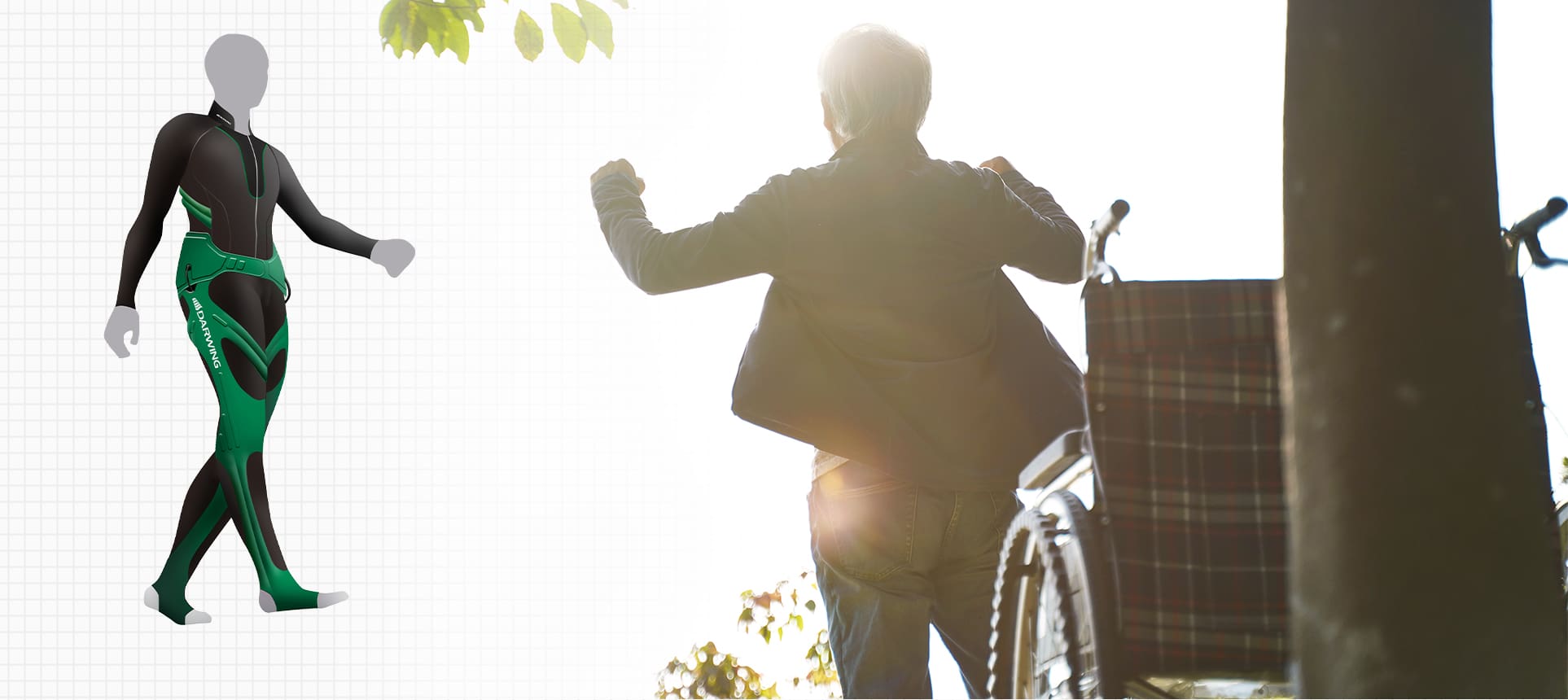 We want to support wheelchair users with difficulty walking due to accidents so that they can walk with their own legs again. Walking hand in hand with loved ones, and feeling free to travel with family. These goals for the future create the desire to walk again. The background behind the development of AIVA is that we wanted to create something that not only supports the movement of walking, but also supports the mental vitality for achieving the goal.
We combine our know-how related to fitting technology and artificial muscles with artificial intelligence to create an assist suit that can learn human movements and support walking tailored to each individual. We are working on the development of AIVA to realize a world where wheelchair users who want to walk again can spend time actively on their own legs.
Advanced alert of workplace physical load
SING
Seamless and Intelligent Navigation Garment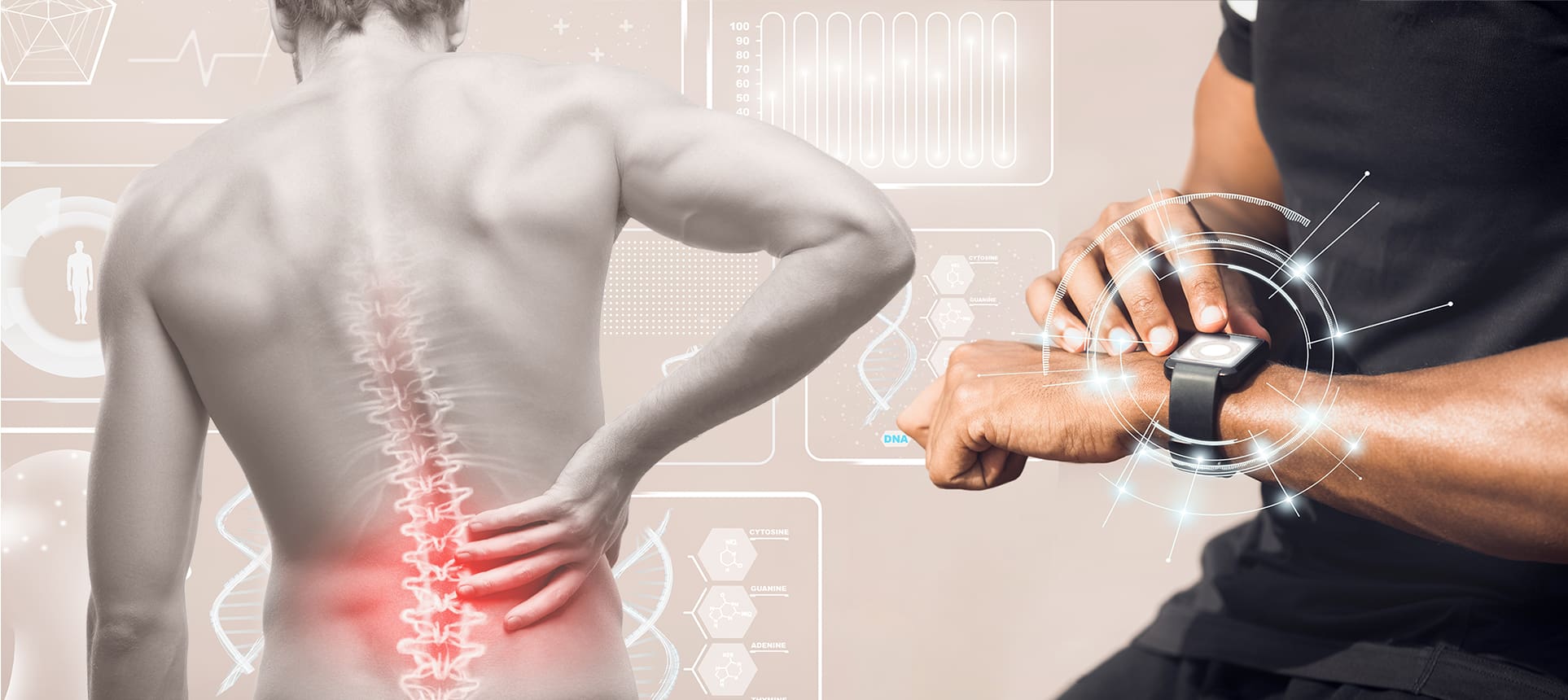 SING is a project that aims for health promotion that blends into our daily lives by taking advantage of our technology and knowledge to the maximum based on our philosophy of "making society smile." We are taking on the challenge of developing a system that supports health management by providing real-time notifications on risks and changes in physical condition associated with daily activities. We strive to visualize unconscious changes in physical condition and promote early intervention to help people spend their days with a healthy smile.
First, we will visualize the physical load of harsh workplaces. Woking with a wearable device that senses your posture and movement provides notifications in the form of an alert before a problem occurs in a lower back resulting from the physical load accumulated due to poor work posture. This will allow administrators to allocate work based on data, which will create an environment for improving working conditions before physical trouble occurs.